During the USSR era, the Moscow Chamber Orchestra (MCO) had a close relationship with several Soviet composers and many works were dedicated to the orchestra or even developed in conjunction with it. The MCO also performed many world-premiers of contemporary compositions. One notable example is Dmitri Shostakovich's Symphony No. 14, which had its official premier in Leningrad, on 29 September, 1969.
Symphony No. 14 premier
Although completed during the spring of 1969, Shostakovich's fourtheenth symphony (Op. 135) didn't have its official premier until September. The four singers involved the first presentation was the sopranos Galina Vishnevskaya and Margarita Miroshnivoa, and the basses Mark Reshentin and Yevgeny Vladimirov.
Premier recording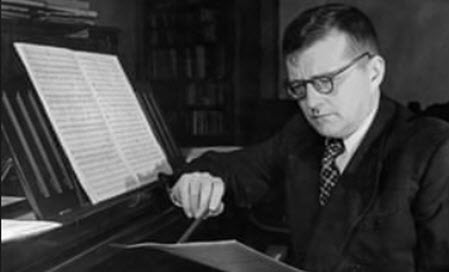 The official premier recording by the state-owned record company/label Melodiya was with Miroshnikova and Vladimirov.
Pre-premier
Prior to the official September premier in Leningrad, an inofficial performance had been carried out with the MCO, with just Miroshivoa and Vladimirov doing the singing. During this pre-premier, Pavel Apostolov – one of Shostakovich's most vicious critics – suffered a heart attack or stroke. It did not kill him during the concert, but it did cause serious damage and he died about a month later. Shostakovich himself thought that Apostolov had actually died during the concert.
Premier in the United Kingdom
Shostakovich dedicated his fourteenth symphony to the English composer, conductor and pianist Benjamin Britten (1913-1976), a central figure of 20th British classic music.
The symphony had its UK premier at the 1970 Aldeburgh Festival, a festival which had been founded by Britten in 1948, and the UK premier performance was conducted by Britten himself.
About Shostakovich's Symphony No. 14
This symphony is a work for soprano and bass soloists, accompanied by a chamber string orchestra with percussion.
The required strings are 10 violins, 4 violas, 3 cellos, and 2 double basses.
The percussion section requires three playes and includes xylophone, wood block, castanets, vibraphone, whip, tom-toms (soprano, alto and tenor), Tubular bells, and celesta. Interestingly, the percussion section does not include more common percussion instruments such as kettledrums, bass drums, cymbals, or triangle.
Theme
The sympohny consists of 11 linked settings of poems by four different authors: Guillaume Apollinaire, Wilhelm Küchelbecker, Federico García Lorca, and Rainer Maria Rilke.
A recurrig theme in many of the poems are death, especially early or unjust death.
Language
Shostakovich used Russian versions of the poems, although since then two other versions of the work have been created, where the lyrics have been back-translated from Russian to either German or their original language.
Inspiration
In many ways, this symphony is a creative response to Modest Mussorgy's Songs and Dances of Death, which Shostakovich orchestrated in in 1962.
Shostakovich was also influenced by the deaths resulting from the Warsaw Pact invasion of Czechoslovakia in August 1968, after the Prague Spring reforms, and just like in Mussorgy, we can see him elaborating on various themes connected to death.
Shostakovich himself explained that he intended the symhony to be a counterweight to the many positive presentations of death in music.
Designation
Shostakovich himself was initially hesitant about how to label his work. Eventually, he designated it a symphony and not a song cycle, to emphasise unity – both musically and thematically. He did not call it an oratorio or choral symphony, because there is no chorus.
Movements
Adagio. "De profundis" (Poet: Federico García Lorca)
Allegretto. "Malagueña" (Poet: Federico García Lorca)
Allegro molto. "Loreley" (Poet: Guillaume Apollinaire)
Adagio. "Le Suicidé" (Poet: Guillaume Apollinaire)
Allegretto. "Les Attentives I" (On watch) (Poet: Guillaume Apollinaire)
Adagio. "Les Attentives II" (Madam, look!) (Poet: Guillaume Apollinaire)
Adagio. "À la Santé" (Poet: Guillaume Apollinaire)
Allegro. "Réponse des Cosaques Zaporogues au Sultan de Constantinople" (Poet: Guillaume Apollinaire)
Andante. "O, Del'vig, Del'vig!" (Poet: Wilhelm Küchelbecker)
Largo. "Der Tod des Dichters" (Poet: Rainer Maria Rilke)
Moderato. "Schlußstück" (Poet: Rainer Maria Rilke)
Dies irae
The first movement of the symphony starts with the violins playing a theme reminiscent of the old Latin hymn Dies irae. Fragments of this theme is then developed in various sections sections through the symphony, including the climatic penultimate movement.
Experimentation with new techniques
Symphony No. 14 shows how Shostakovich was adopting and working with new techniques, such as tone rows (which are present in nine movements) and dramatic tone clusters.