Igor Bezrodny (1930-1997) was appointed conductor and artistic director of the Moscow Chamber Orchestra in 1977, when Rudolf Barshai, the orchestra's founder, left the Soviet Union for a life in the West. The orchestra remained under Bezrodny's leader ship until 1981, when Victor Tretiakov took over.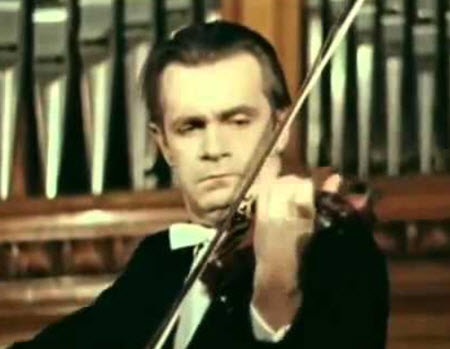 In addition to being a conductor, Bezrodny was a skilled violinist and appriciated violinist teacher, and he was a part of the renowned Moscow Trio with Dmitry Bashkirov and Mikhail Homitzer. He travelled internationally and performed in over 60 different countries, recieving distinguished awards from countries such as the United States, Finland and East Germany. For international violin competitions, he was a sought after jury member.
As a violin teacher, Bezrodny made a point of not bringing his violin to class, since he didn't want to play anything for his pupil. He reasoned that if a student heard him play, there was a risk of mindless copying that would hamper the fantasy of the player. As a result of his unusual teaching method, his students became renowned for each having retained and developed their own artistic identity.
Bezrodny was also an avid cineast, and his love for dramaturgy on the silver screen cross-pollinated with his keen sense for dramaturgy in music. He even made an amateur film about South America that won an all-Soviet amateur filmm contest.
When it came to music, he regretably disliked recordings, which meant that he did relatively few of them. According to Bezrodny, there was an unnaturalness to the recording process. He expressed that players had to fill the air between them and the listener with music, and a recording was merely a mechanical imprint of sounds.
Early life and studies
Igor Bezrodny was born in Tbilsi on 7 May, 1930. Today, Tibilsi is the capital of the sovereign republic Georgia, but when Bezrodny was born Georgia was a part of the USSR.
Bezrodny was born into a family of prominent violinists. His father Semyon Bezrody was the leader of the Tbilsi Opera and also a professor at the Tbilisi conservatory. Later on, Semyon Bezrody held a professiorship in Moscow. Igor Bezrodny's mother Tatjana Pogozheva was a renowned teacher, not just in Georgia but also in Finland.
The young Igor was thus exposed to classical music from a tender age and developed a strong affection for it. At age two, he was present at a concert where his father was the concertmaster, and during the rendition of Valse Triste by Jean Sibelius the young boy got so carried away that he toddled up onto the stage to take over the conducting.
Professor Abram Yampolsky started teaching Igor Bezrodny in 1937, and would remain his music teacher until 1955; first in the Central Music School and then at the Moscow Conservatoire.
Competitions
At the age of 17, Bezrodny got to travel to Prague to compete in the violin contest at the inagrual World Youth and Student Festival – a competition that he won. Two years later, he won the Jan Kubelik Competition in Prague, and the following year he emerged victorious from the Bach Competition in Leipzig.
Due to his success in prestigious musical competitions, Bezrodny was awarded the Stalin Prize in 1951, before even turning 21. He was the youngest ever artist to be awarded this prize.
Finland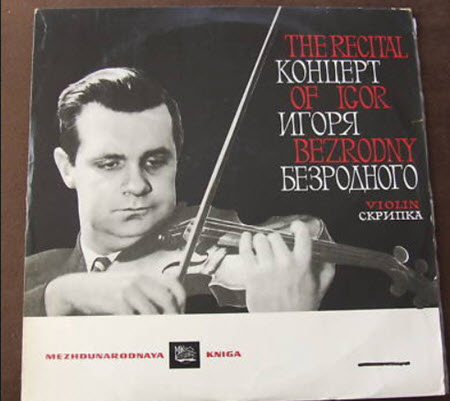 In 1950, Bezrodny visited Finland for the first time, and this would prove to be the start of a life-long connection to the country. He returned to Finland over and over again, to hold master classes, play with orchestras, and give recitals. For two decades, he was a recurring figure at the Jyväskylä Kesä Festival, and in 1986-1990 he was the chief conductor of the Turku Philarmonic Orchestra.
In 1953, the famous Finnish composer Johan Jean Sibelius (1865-1957) invited Bezrodny to his home in Järvenpää, where Bezrodny played for him and the two musicians discussed the young man's compositions. Later on, Bezrodny would express how this meeting had made a great impression on him.
Early career
When the 25-year-old Igor Bezrodny finnished his graduate violin studies at the Moscow Conservatoire in 1955, he was instantly hired as a teacher there.
Parallell with his teaching, he completed a conducting course in 1962-1966, under the tutelage of the professors Nikolai Anosov, Boris Haikin and Leo Ginsburg. In 1967, he began his career as a conductor, and quickly developed a reputation for being particularly good at sensing and brining out the drama inherent in the symphonic repertoire.
The Moscow Chamber Orchestra
Bezrodny was appointed chief conductor and artistic leader of the Moscow Chamber Orchestra after Rudolf Barshai's departure in 1977, a position which he kept until 1981.
Finland
In 1986-90, Bezrody was the chief conductor of Turku Philarmonic Orchestra in southern Finland.
In 1990-1997, he thought violin at the Sibelius Academy in Helsinki, the capital of Finland.
Family
Bezrodny was married to the Mari Tampere-Bazrodny, who was also his colleague. After his death on 30 September, 1997, she carried on his legacy by continuing to teach and play in the Bezrodny tradition.
Their daughter Anna-Liisa Bezrodny is also a skilled violinist.