Andrei Korsakov (1946-1991) was appointed conductor and artistic director of the Moscow Chamber Orchestra after Victor Tretiakov, but only held the position for a short period of time before his early death in 1991. He was succeeded by Constantin Orberlian.
Korsakov was a highly acclaimed violinists and conductor both in the USSR and abroad, and he was named the People's Artist by the Soviet government. He played an Andrea Guarneri violin from the Russian State Collection, and later a Vincenzo Rogieri.
Here is an example of him playing Fritz Kreisler – Liebesleid, Schön Rosmarin and Syncopation:
Early life and studies
Andrei Korsakov was born 7 May, 1946. His father, Boris Korsakov, was a violinists, and a distant relative of the Russian composer Nikolai Rimsky-Korsakov (1844-1908).
At the age of 7, Andrei Korsakov started taking violine classes at the Central School in Moscow, with his father as his teacher.
He made his debut performance at the Moscow Conservatory in either 1954 or 1955 (conflicting sources).
By age 18, he was attending the Moscow Conservatory with Boris Belenky and Leonid Kogan.
While still a student at the conservatory, Korsakov began performing abroad, nut just in Europe but also in countries such as the United States, Canada, Mexico, and Australia. He won prestigious violin contests, such as the Paganini Competition in Genoa, the Jacques Thibaud Competition in Paris and the Montreal Competition in Quebec.
Career
Teaching
Korsakov was as a violine teacher at the Moscow Conservatory. Among his pupils were Natalia Alenitsyna and Alexander Spivak.
The Russian Ensemble Concertino
In 1980, the 34-year-old Korsakov founded the Russian Ensemble Concertino, and he was the concertino's conductor for 11 years. (Korsakov died in 1991.)
The Moscow Chamber Orchestra
Korsakov was appointed chief conductor and artistic director of the Moscow Chamber Orchestra after Victor Tretiakov.
Personal life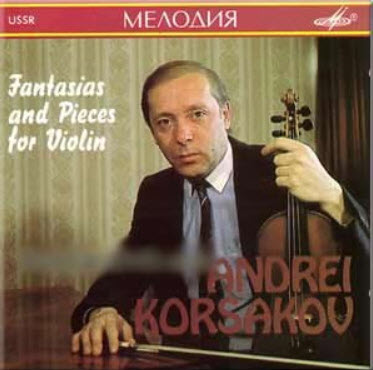 Korsakov was fluent in three languages: Russian, German and French.
Together with the pianist Yolanta Miroshnikova-Caprarica, Koraskov had the daughter Natasha Korsakova.
Natasha Korsakova, of Russian-Greek decent, grew up to be a violinists too. At the time of writing, her repertoire includes about 60 concertos for violine and orchestra, plus numerous chamber music works. Her first violin teacher, when she started playing at the age of 5, was not her father but her grandfather, Boris Korsakov. Eventually, she started taking lessons from her father, and after his early death in 1991 she studied under the tutelage of Ulf Klausenitzer in Nuremberg and then later for Saschko Gawriloff in Cologne. Her two main violins are a Stradivarius-Vuillaume "Messiah" (Paris, 1870) and a Jean Baptiste Vuillaume (Paris, 1851).